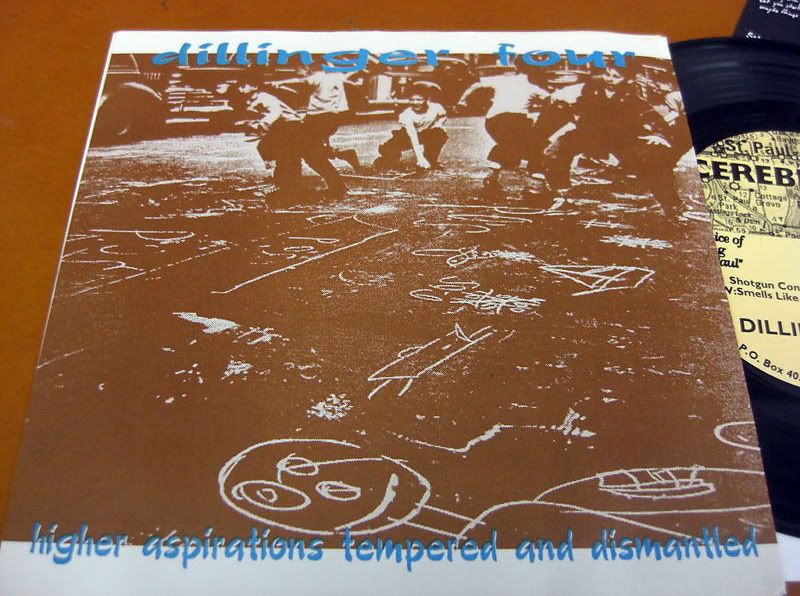 TRACKS:
1. Shotgun Confessional
2. Unemployed
3. Smells Like OK Soda
4. One Trick Pony
I don't really know what to say about Dillinger Four that hasn't already been said. If you're checking out this blog you should probably already know this band. D4 are from Minneapolis, MN and play gruff, raw, and fast pop-punk. They play a style that has been aped and poorly imitated by hundreds of bands of recent memory, but this is the original and the real deal. I love the dual vocals, switching between melodies and aggression. The music is the same way; nice melodies and fast aggressive punk. The lyrics are very tongue in cheek and satirize modern society and government. Y'know, and pop punk stuff like being poor and lonely. This is their first release, as far as I can tell, and its definitely a good one. This stuff is on the "This Shit is Genius" LP that collects their splits and 7" so you may already have this, but whatever. It's still great. The band is still around from time to time, and put out the wonderful "C I V I L W A R" in 2008. Members play in a couple other bands, but Paddy plays in
The Arrivals
, who you should definitely check out, and Cleveland Bound Death Sentence, who shares members of Crimpshrine! FULL CIRCLE! Sorry I don't have a better picture, my scanner is broken.
FFO: The Midwest, Crimpshrine, Toys That Kill, Green Day, Pop-Punk, Latterman