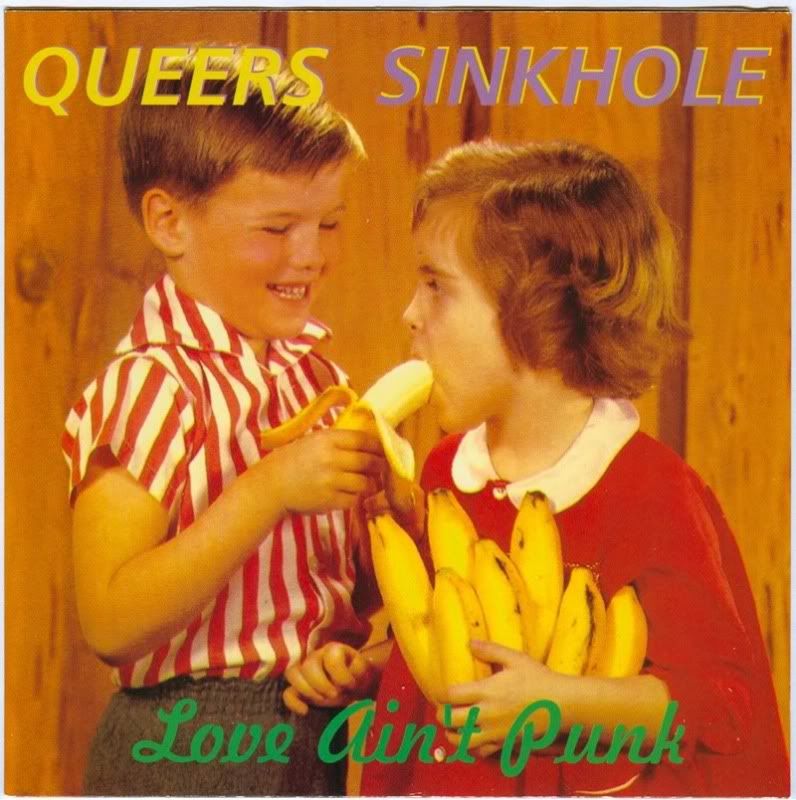 Here we have four, count 'em, FOUR 45s from one of New Hampshire's best and most underrated bands, SINKHOLE. Sinkhole came from the also great,
A.G.'s
from Newmarket area, NH and members went on to form
Doc Hopper
and
The Groucho Marxists
, played in
The Measure [SA]
, and recorded/produced a bunch of sweet pop-punk albums (like The Ergs!). Sinkhole played really energetic and unique sounding pop-punk. Hugely influential in bands like The Ergs! and Billy Raygun, who have both totally ripped them off (whether they know it or not). So with that said you should have a slight idea of what they sound like.
Stool
is a real early recording for the band. I'm not huge on the eponymous song, but "Waterbug" and "Sneeze" are both fucking fantastic.
Donkey
is awesome the whole way through, with diverse songs and great lyrics.
Love Ain't Punk
is ok, skip the Queers songs and the GG Allin cover. The split with New Breath is really good too, and New Breath themselves aren't bad. I included the Queers and New Breath songs in this download too, by the way, because I love you.
FFO:
The Ergs!, Billy Raygun, Pop-punk, Toys That Kill
,
Sicko
Sinkhole also has all of their full-lengths up on their website located here:
http://slower.net/sinkhole/#news
. Definitely check out everything they have up there because it is all phenomenal.
Core Sample
is my favorite.
NEW HAMPSHIRE!!!!! WE HAVE GOOD BANDS TOO!!!