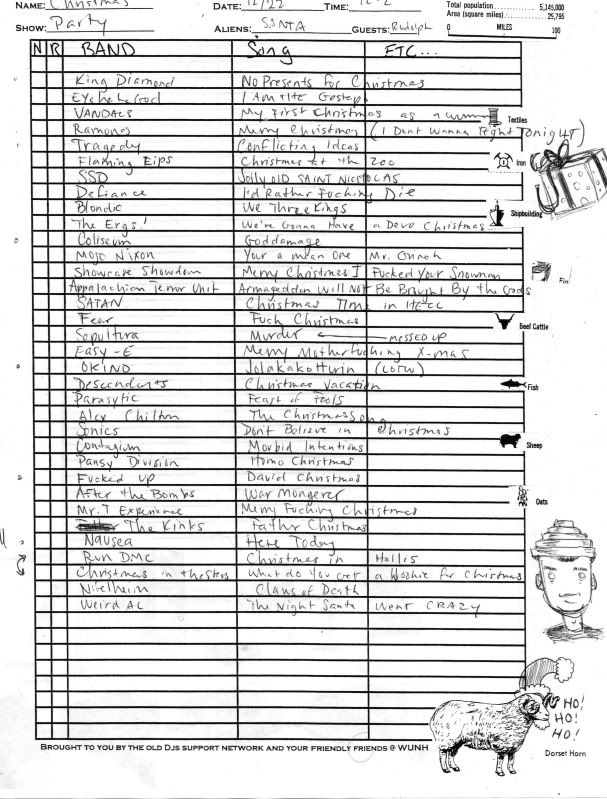 MERRY CHRISTMAS/CRUSTMAS EVERYONE!!
This weeks theme was Christmas tunes and crust tunes! Talk about a smelly Christmas!
TRACKZ:
1. King Diamond//No Presents for Christmas
2. Eyehategod//I Am the Gestapo
3. The Vandals//My First Christmas as a Woman
4. The Ramones//Merry Christmas (I Don't Wanna Fight Tonight)
5. Tragedy//Conflicting Ideas
6. The Flaming Lips//Christmas at the Zoo
7. SSD//Jolly Old St. Nicholas
8. Defiance//I'd Rather Fucking Die
9. Blondie//We Three Kings
10. The Ergs!//We're Gonna Have a DEVO Christmas
11. Coliseum//Goddamge
12. Mojo Nixon//You're a Mean One, Mr. Grinch
13. Showcase Showdown//Merry Christmas I Fucked Your Snowman
14. Appalacian Terror Unit//Armageddon Will Not Be Brought By the Gods (But By Men Who Think They Are)
15. SATAN//Christmas Time in Hell
16. Fear//Fuck Christmas
17. Sepultura//Murder (THIS ONE FUCKED UP SORRY)
18. Easy-E//Merry Motherfucking Christmas
LICK OF THE WEEK:
19. Ókind//Jólakötturinn
20. Descendents//Christmas Vacation
21. Parasytic//Feast of Fools
22. Alex Chilton//The Christmas Song
23. The Sonics//Don't Believe in Christmas
24. Contagium//Morbid Intentions
25. Pansy Division//Homo Christmas
26. Fucked Up//David Christmas
27. After the Bombs//War Mongerer
28. Mr. T Experience//Merry Fucking Christmas
29. The Kinks//Father Christmas
30. Nausea//Here Today
31. Christmas in the Stars//What Do You Get a Wookie for Christmas (When He Already Has a Comb)?
32. Run DMC//Christmas in Hollis
33. Nifelheim//Claws of Death
34. Weird Al//The Night Santa Went Crazy