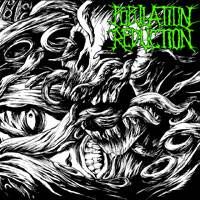 Here is Population Reduction a grind band from San Francisco, CA. This band has been gaining popularity as of late, getting added to a few festivals every now and than. If you like early Napalm Death, Terrorizer, or Nasum give these guys a shot. This was the seven inch they put out before their LP "Each Birth A New Disaster" which KILLS and is still available through
Tank Crimes
so if you like this and want more of their material buy that because it blows this out of the water. That being said here we have At The Throats Of Man Forever the bands first 7" after their self released CD-R Demo. Ripping grind with good lyrics about weed and killing hipsters (it beats thrash about pizza and beer bongs!) If anyone is interested I have this on CD with a live radio set, the demo, and comp tracks so if you like this and want more LEAVE A COMMENT. Other than that pack up a bongload and put on some raging grind!!
I also got to see these guys in SF for a benefit show that the Capitalist Casualties dropped from and, they killed it for sure. Funny mother fuckers for sure and they make a lot of noise live for only being a two-piece!
Download
Myspace
Buy Their Newest Material!