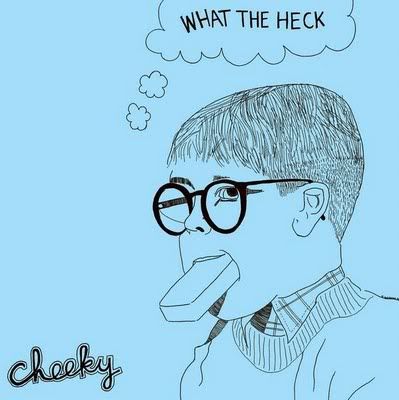 Tracks:
1. Look At You
2. Two Faced Basket Case
3. & 4. Pt. 1 - Is This Normal? & Pt. 2 - This is Not Normal (ripped as one track)
5. Get Off My Back
6. Can't Stand the World
7. Train Wreck
8. You'll Never Get it Right
Cheeky was a FANTASTIC poppy-punk band with rock 'n roll influences from Brooklyn, NY. They combined really snotty/goofy vocals with sweet riffs and fun, well written songs. They almost have a riot grrl feel to them, but way poppier and fun. The songs all seem to be fairly negative and insulting, which is great against the happy sounding backdrop. Real sarcastic sounding. This record has a lot of attitude. My favorite track(s) on this short but sweet record is the two-parter, Is This Normal?/This is Not Normal. I think the drummer does a lot of the back-ups and they compliment Kate's, the singer, lead vocals well. I only got to see this band once, and I hadn't heard any of their material. They blew me away but broke up shortly after I saw them. They were so goofy and awkward in between songs, then just started shredding and looked like they were having the time of their lives. Members from this band are in the excellent rock 'n roll band
BIG EYES
, and the 90's influenced
BIG SODA
now. Also, Kate was in the Replacements-esque
USED KIDS
, who are certainly also worth checking out. FFO: Angry Samoans, Bikini Kill, Descendents, Replacements
Their awesomely great 7" CHOKE ON A CHEESEBURGER is up for download off of the Quote Unquote Records website, and is HIGHLY recommended. The song writing isn't as good as this record, but the songs are more fun and possibly more classic.
YOU NAMBY PAMBY!